Now Available: Bunker Diaries and Inner Harbor Field Reports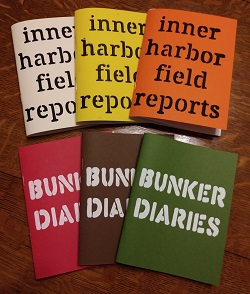 Bunker Diaries: a brief fictional journal of an unnamed instructor toiling in a bunker somewhere. Originally serialized online in Fall 2012.
Inner Harbor Field Reports: a compendium of observations from Baltimore's Inner Harbor, 2014-2019. Originally serialized on Tumblr.
Each limited to 50 numbered copies; quarter-sized, screen-printed covers
Published in May 2019
Only orderable here together as an economy package deal. Sold separately through Atomic Books and Quimby's Bookstore (will post links when available).
Payment accepted via PayPal below (price includes both) - $5 US / $6 CAN / $7 World
For cash payments through the post, please request my mailing address via the contact form.
Read about my previous zines: Thoughtworm and Hatred of Writing.
For current news and writing, visit Lost Gander.