Now Available: Bunker Diaries and Inner Harbor Field Reports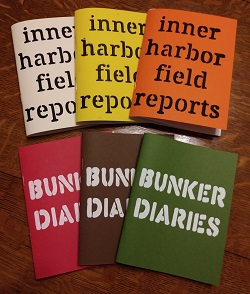 Bunker Diaries: a brief fictional journal of an unnamed instructor toiling in a bunker somewhere. Originally serialized online in Fall 2012.
'A vaguely Evenson-ian claustrophobia...the ending is appropriately futile and satisfying' - Bill Hsu
Inner Harbor Field Reports: a compendium of observations from Baltimore's Inner Harbor, 2014-2019. Originally serialized on Tumblr.
'Sean takes a behaviorist's perspective of locals, tourists, and birds.
The peoplewatching and birdwatching happen side-by-side and the migration patterns of both are noted.
Perfect for anyone who loves birds and hates people (but is fascinated by them).'
—Davida Gypsy Breier, Xerography Debt #47
Each limited to 50 numbered copies; quarter-sized, screen-printed covers
Published in May 2019
Sold separately through Atomic Books (Bunker Diaries | Inner Harbor Field Reports)
and Quimby's Bookstore (Bunker Diaries | Inner Harbor Field Reports).
Read about my previous zines: Thoughtworm and Hatred of Writing.
For current news and writing, visit Lost Gander.